Chicago Cubs
2017 & Offseason Review
Record: 92-70
Postseason Result: Lost the NLCS to the Dodgers in 5 games.
Offseason Moves: Lost pitchers Wade Davis (Rockies), Jake Arrieta (Phillies), and John Lackey (unsigned) while signing SP Yu Darvish away from the Dodgers.
Offseason Grade: B. This team didn't need all that much. Signing Darvish to replace Arrieta in the rotation is an upgrade, and this team has enough in-house talent to collectively make up for losing Davis and Lackey.
2018 Preview
Bovada's 2018 Projection: 94.5 wins, which they'll surpass.
Biggest Question: The Cubs, of course, were the darlings of the 2016 season, winning the franchise's first World Series title since 1908 by overcoming a 3-1 game deficit against the Indians. The team took a step back last year, going from 103 wins to 92 wins and losing the pennant. Hardly something to sneeze at, yet this is a group of players expected to deliver multiple championships, not just one. Will they be able win their second World Series in three years? Because that's the goal. Nothing else much matters in Wrigleyville. A team that boasts Kris Bryant, Anthony Rizzo, and Kyle Schwarber in the lineup and Darvish, Jon Lester, and Jose Quintana in the rotation must be considered a league favorite.
Sporting News
Player to Watch: Jason Heyward, RF. Heyward has tantalized fans, managers, teammates, and ownership with what seems to be untapped potential that, eight years into his career, is still untapped. He's been an utter failure in Chicago. If he's ever going to break out, now is pretty much his last chance to do so. He may be an expensive benchwarmer at the start of 2019 if he doesn't.
Prediction: 96-66 with another pennant and a showdown with the Astros in the World Series.
Milwaukee Brewers
2017 & Offseason Review
Record: 86-76
Postseason Result: N/A
Offseason Moves: Acquired outfielders Lorenzo Cain and Christian Yelich on the same day, the former through free agency and the latter in a trade with Miami. Also signed free agent pitchers Jhoulys Chacin and Yovani Gallardo to deals. Didn't lose much.
Offseason Grade: B+. Much like the Minnesota Twins, after a surprisingly successful season, the Brewers moved forward in the offseason, adding pieces to help the team reach the playoffs in 2018. Alongside holdover Ryan Braun, Cain and Yelich could help form the league's best outfield.
2018 Preview
Bovada's 2018 Projection: 84.5 wins. They'll reach that.
Biggest Question: Milwaukee last made the playoffs in 2011 when they reached the NLCS (only to lose to division rival St. Louis) but finished just one game back of the second Wild Card in 2017. The team has increased its win total each of the past three seasons, going from 68 to 73 to 86. While another thirteen-win jump seems unlikely, the 2018 squad should surpass the 2017—but by how many games?
Last year, 87 wins was good enough to make it to the playoffs. With such a chasm between teams willing to compete in 2018 versus those willing to compete for the future, it will take more this year. But with the club's additions, plus bringing back just about everybody from last year, the Brewers win total should jump by 4—enough to make the post-season.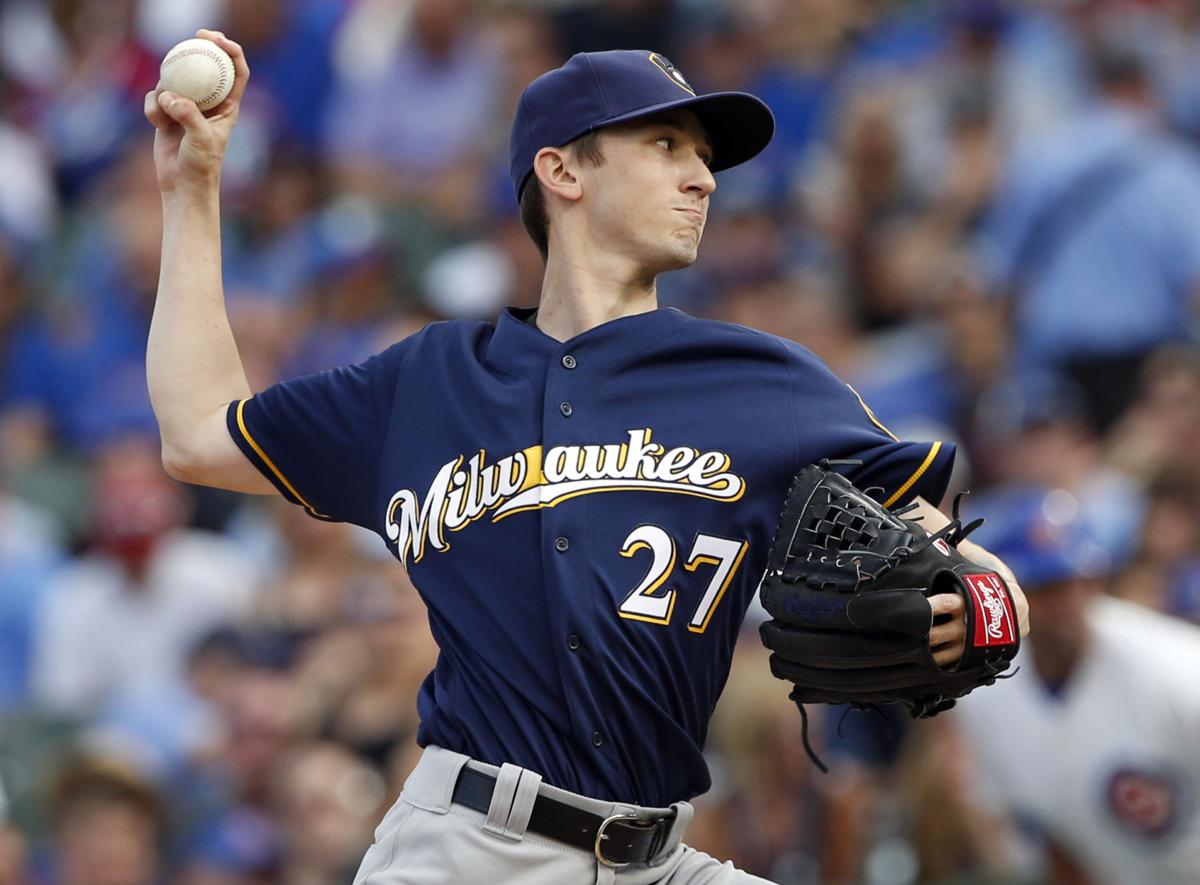 Wisconsin State Journal
Player to Watch: Zach Davies, SP. A former 26th round pick of the Orioles, Davies led the Brewers in wins last year en route to a 17-9 performance with a 3.90 ERA. He did that in 33 games started and almost 200 innings pitched. The Brewers will need him to be a workhorse again this season if they expect to surpass last year's finish.
Prediction: 90-72, good enough for a playoff game.
St. Louis Cardinals
2017 & Offseason Review 
Record: 83-79
Postseason Result: N/A
Offseason Moves: After whiffing on OF Giancarlo Stanton, managed to land his ex-teammate, Marcell Ozuna, in a five-player deal with Miami. Signed relievers Luke Gregerson, Miles Mikolas, and Bud Norris. Lost SP Lance Lynn to free agency, along with relievers Trevor Rosenthal (who is injured and out for the season), Zach Duke, Juan Nicasio, and Seung-Hwan Oh. In separate deals, traded outfielders Stephen Piscotty (Oakland) and Randal Grichuk (Toronto).
Offseason Grade: B-. Great get in Ozuna, though the cost was steep. Gregerson struggled in Houston last year. It seemed like the Cardinals would build on these acquisitions, but then, disappointingly, didn't.
2018 Preview
Bovada's 2018 Projection: 85.5 wins. They won't get there.
Biggest Question: The offense should be fine, especially with Ozuna added to the mix. But the pitching staff is scary, not to mention aging. When are the Cardinals going to address the starting rotation?Adam Wainwright is running on fumes and junk pitches, Michael Wacha still isn't the same as he was back in 2015, and Alex Reyes is coming off a significant injury. Outside of Carlos Martinez, this staff is question mark after question mark. Maybe Luke Weaver and Jack Flaherty can add something positive, but it's looking more likely that the Cardinals will have to invest either significant money or a significant trove of prospects for a front-end starting pitcher.
Yahoo Sports
Player to Watch: Tommy Pham, CF. Pham had a 20-20 season in 2017 while hitting .306 with a .931 OPS. He accomplished all of that in only 128 games. It's fun thinking about what he can do starting on a full-time basis, like he'll be doing going into 2018. And he'll be playing mad, too, which is always great. He's mad about contracts negotiations, and he seems determined to show the front office that his 2017 season was no fluke.
Prediction: 80-82. A sub-.500 season is bound to happen one of these days (last one: 2007), and with such a poor pitching staff, this seems like as good a year as ever.
Pittsburgh Pirates
2017 & Offseason Review
Record: 75-87
Postseason Result: N/A
Offseason Moves: Traded for OF Corey Dickerson and received some good young players in trading ace Gerrit Cole to Houston. Also traded long-time CF Andrew McCutchen to the Giants.
Offseason Grade: C-. Traded two of its biggest stars the winter after going 12 games under .500. Don't see how that's a recipe for improvement.
2018 Preview
Bovada's 2018 Projection: 73 wins. Nope.
Biggest Question: This goes straight to ownership: do the Pirates care about winning? It doesn't seem so. It seems like owner Robert Nutting is more concerned with the bottom line than the product on the field. Which is a shame, because this team boasts some good players and a heck of a manager in Clint Hurdle. Hurdle, his players, and Pirates fans deserve better than the gutting of a team that won 98 games in 2015.
FanSided
Player to Watch: Starling Marte, OF. Though I've got a soft spot in my heart for David Freese, Marte is now the top Pirate. He'll take over for McCutchen in center, and should provide many exciting plays. Here's to him regaining his offensive prowess.
Prediction: 70-92. The downfall continues.
Cincinnati Reds
2017 & Offseason Review
Record: 68-94
Postseason Result: N/A
Offseason Moves: Lost Zack Cozart to free agency. Signed solid relief pitchers David Hernandez and Jared Hughes.
Offseason Grade: C. Upgrading the middle part of the bullpen doesn't exactly scream "turnaround."
2018 Preview
Bovada's 2018 Projection: 73.5 wins. They won't get there.
Biggest Question: This is manager Bryan Price's fifth season with the Reds. So far, his record is 276-372. The most regular season wins the Reds have had under him: 76, in 2014. Why is he still the team's manager? As it appears with most bottom-feeding teams, it's not about now—it's about the future. The Reds are bad now, and nothing will change that, not even a new manager. Price won't always be the Reds manager, but for time being, with the team going nowhere, it doesn't make much sense for Cincinnati to make a change.
That whole paragraph made me sad, and I'm not even a Reds fan.
New York Post
Player to Watch: Joey Votto, 1B. The Reds sole star just seems to produce, year after year. Some seasons, like 2017, are a cut above the rest. He came in second in MVP voting last after slashing .320/.454/.578 for a league-leading 1.032 OPS. He also played in all 162 games and led the league in walks for the fifth time in his career—dangerous and patient. The five-time All-Star will need to continue his excellence in 2018 for Reds fans to have any reason to come out to the ballpark.
Prediction: 67-95. They've gone 68-94 each of the past two seasons. Something's gotta give.
(Cover photo courtesy of Bleacher Report)