The new league year and free agency begins next Wednesday, March 14th. Even without official moves, The NFL has remained firmly in the spotlight thanks to big name trades and franchise tag designations. Here's a look at some of the most noteworthy decisions and how each move reflects on the team(s) involved.
KC Trades Alex Smith to WAS for 3rd rounder and Kendall Fuller
Kansas City Chiefs: A-
The writing was on the wall when the Chiefs moved up to take Patrick Mahomes 10th overall in the 2017 Draft. Alex Smith had his best statistical year this season. He even displayed a sudden knack for slinging it deep. Unfortunately, Smith did nothing to quiet the doubts about his ability to make a deep playoff run. Andy Reid has a similar reputation in that regard, but he certainly knows when to unload quarterbacks. He has traded A.J. Feeley, Kevin Kolb, and washed up Donovan McNabb for three 2nd round picks, a 4th round selection, and Dominique Rodgers-Cromartie. Mahomes is still a question mark. The move could end up setting Kansas City back. However, the team appeared to be spinning their wheels anyway. They now have a future – plus one of 2017's best slot corners in Kendall Fuller.
Washington Redskins: C-
Alex Smith may make the Redskins a more consistent offensive team. He just doesn't put them over the top in a division that could be controlled by two young guns (Wentz and Prescott) for the next decade. Washington found a slightly cheaper, more mobile option with Smith, but they are surrounding him with far less talent than Kansas City did and are essentially moving the clock forward on finding a new franchise quarterback. He's four years older than Cousins. The reported $71 million guaranteed extension raises concerns. Giving up Kendall Fuller raises concerns. That's par for the course considering Washington's front office often makes a case for consideration as "Cleveland East."
KC Trades Marcus Peters and 2018 6th Rounder to LAR for 2019 2nd Round Pick and 2018 4th Rounder
Los Angeles Rams: A
The only Rams fans who shouldn't like this move are the ones left behind in St. Louis. Los Angeles has unexpectedly opened up a Super Bowl window and struck accordingly. Giving up a future 2nd round pick and 2018 4th round selection is virtually nothing for a player of Peters' caliber. The 25-year-old corner has forced 24 turnovers and scored three touchdowns since entering the league in 2015. There are blatant character concerns, but the price is certainly right. Los Angeles gets Peters on the tail end of his rookie contract with the opportunity to exercise his fifth-year option. They should also recoup a compensatory pick when cornerback Trumaine Johnson leaves in free agency.
Kansas City Chiefs: C
The savvy transition of Kendall Fuller ultimately made this move possible. Peters acted out multiple times during the season, throwing flags into the stands and fighting with coaches. Kansas City ultimately felt Peters' negative locker room presence outweighed his on-field contributions. Their lowly return in the trade suggests most teams share the opinion. However, the Chiefs may want to be careful about how much they want to rock the boat. Failing to advance past the first or second round of the postseason seems like the end of the world until the problem becomes failing to make the playoffs at all.
Jaguars Extend Blake Bortles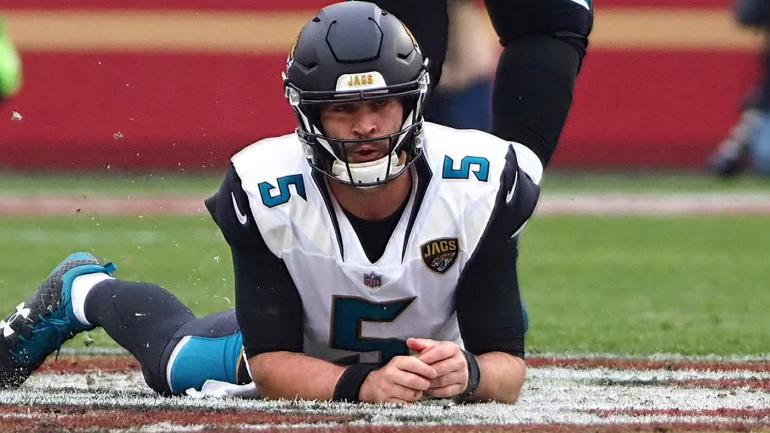 Jacksonville Jaguars: B-
Blake Bortles isn't the reason Jacksonville lost to New England in the AFC Championship Game. He's the main reason Jacksonville almost lost to Buffalo in the Wild Card round, and neither of those statements are the reason Jacksonville extended Bortles for three years. The team likely did so because it was on the hook for Bortles' fifth-year option after the quarterback underwent offseason surgery. The grade for exercising the option is an F. The grade for the extension is currently a B-, but mostly incomplete. Should the Jaguars draft a quarterback in the early rounds or sign a legitimate veteran to compete with Bortles, the extension is simply a safeguard that simultaneously reduces Bortles' 2018 cap hit. If the Jaguars continue to commit to a quarterback that threw for 87 yards against the Bills, it'll be devastating for a team that can win a championship now.
Minnesota Vikings: A
You don't necessarily have to believe that Kirk Cousins is Minnesota's best option to agree that declining to tag Keenum or Bridgewater is the prudent decision. The Vikings have thrown their hat into the Kirk Cousins circus as likely frontrunners. Placing a tag would only weaken their bid. The Vikings' might retain key pieces more easily in the future if they ink one of their own to a friendlier deal, but that move isn't out of the question simply because the team explores Cousins first.
Steelers Franchise Tag Le'Veon Bell
Pittsburgh Steelers: B+
The Steelers slapped an exclusive tag on Bell for $14.5 million in 2018. It may have been Pittsburgh's only option at this point while the two parties negotiate. Le'Veon Bell is a transcendent talent, electric in both the running and passing game. That said, he wants a long-term contract with $14.5 million as his per-year salary. His demands are $6.25 million more than Devonta Freeman's record breaking annual salary. The retirement talk was likely a bluff. Even if Bell holds out for a time, he'll eventually report. The Steelers should end up getting their money's worth. It's smarter to stall on a longer deal. This way, Pittsburgh doesn't overpay or overcommit to Bell but still benefits from his prime years at the end of Big Ben's career. The running back will turn 27 a few weeks after next season's end. That's when most at the position peak and begin to decline.
For what it's worth, Bell grades out lower in this ordeal. His high demands have likely rubbed some Pittsburgh faithful the wrong way. His value will depreciate in the coming years considering his injury history and touches logged. Bell would stand to make more by agreeing to a long-term contract that breaks records without existing in its own stratosphere.
Let us know what you think in the comment section below! Also, follow us on Twitter @factfictfant and subscribe!
Header Photo: SB Nation