The NFL season is over, NBC has moved onto curling, and there's a lengthy wait until August. In other words, this dead period is the best time to throw out a couple of wild guesses for the next half-decade of Super Bowl results. Free agency and the NFL Draft could obviously change everything. Teams might look astronomically different only a few months from now. Just remember, Conference Championship Weekend included the Jaguars, Eagles, and Vikings. Their combined 2016 record was 18-30.
1. Super Bowl LIII (2/3/2019): New England Patriots 24, Green Bay Packers 31
Despite Rob Gronkowski's retirement, Malcolm Butler's departure, and the massive karma that deserves to bite Josh McDaniels in the ass, New England guts it out for another Super Bowl appearance. They host a home wildcard game and obliterate the Denver Broncos, who waved goodbye to both Aqib Talib and Emmanuel Sanders to land Kirk Cousins on a mega contract. The Patriots then squeak by the DeShaun Watson-led Texans and the Pittsburgh Steelers.
Green Bay reaches their third NFC Championship game in five years on the heels of another overplayed Rodgers sound bite. The defense takes a massive step forward under new defensive coordinator Mike Pettine. That unit and the Lambeau home field advantage finally help vanquish the Atlanta Falcons, a recent thorn in Green Bay's side, to reach the game's biggest stage.
Two Sundays later, the game remains deadlocked 24-24 with 10 seconds remaining. Aaron Rodgers launches a Hail Mary throw that makes even Elon Musk and his Tesla Roadster jealous. The ball finally drops down from orbit into the waiting arms of Jordy Nelson. Game over. Green Bay joins Philadelphia to start a new trend of green jersey teams winning the Super Bowl.
2. Super Bowl LIV (2/2/2020): Jacksonville Jaguars 17, Minnesota Vikings 3
The Jaguars miss the postseason after sticking with Blake Bortles in 2018. Nick Foles becomes available as a free agent. Jacksonville adds him to mentor second-year player Lamar Jackson. Instead, Foles beats out Jackson and leads the team to a 13-3 record. The AFC side of the playoffs proves an easy feat for the Jags' still-dominant defense.
Minnesota rolls into the playoffs with Teddy Bridgewater behind center. Third in both points scored and points allowed, the Vikings dispatch Washington and San Francisco before getting revenge on Philadelphia in the NFC Championship Game.
Unfortunately, the choke job Minnesota fans have learned to dread rears its ugly head on Super Bowl Sunday. Bridgewater and Dalvin Cook combine for five turnovers. Nick Foles tosses two touchdowns in a grueling victory. The Internet spirals into a raging argument over Foles' Hall of Fame credentials. Some redditor posts a comprehensive flow chart that includes Jim Plunkett, Kurt Warner, and Shane Falco. BuzzFeed steals the content as its own.
3. Super Bowl LV (2/7/2021): New York Jets 20, New Orleans Saints 34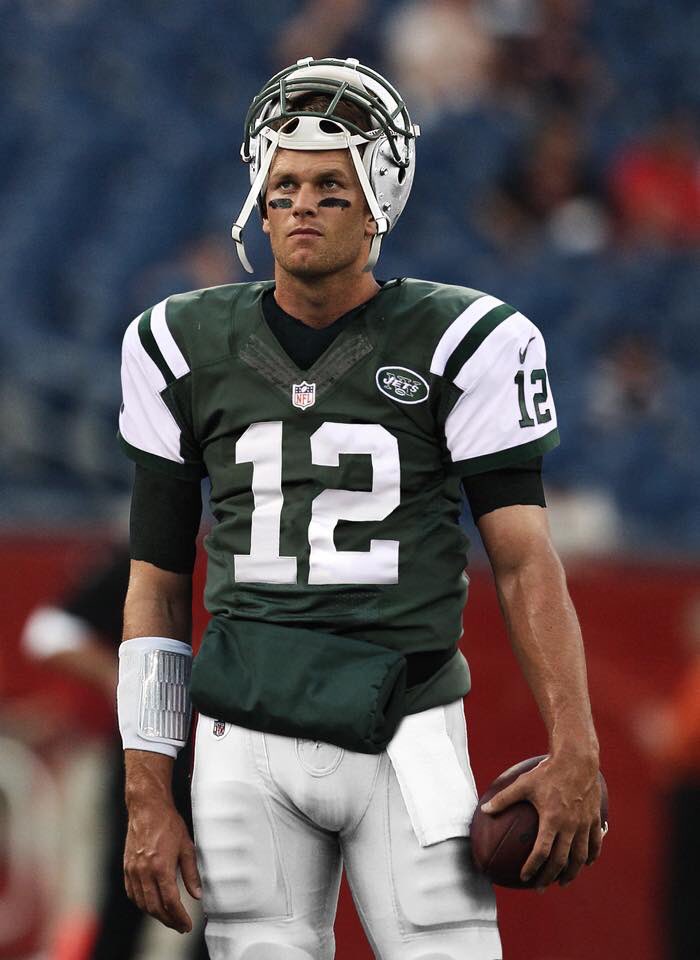 Currently, only two quarterbacks not named Brady, Manning, or Roethlisberger have won an AFC Championship since 2001. One retired in 2004 (Rich Gannon), and one is definitively not elite (Joe Flacco). The Super Bowl LIV matchup gives the rest of the league hope that times are changing, especially after New England misses the 2020 postseason.
The league is wrong. The Patriots use the disappointment to evaluate their future. Robert Kraft signs off on letting Brady go in favor of Mason Rudolph. Tom Brady enters free agency coming off an injury-marred season at 42. The Jets, who failed to acquire Kirk Cousins and whiffed on Baker Mayfield, express interest. Brady pulls a Favre and joins them to stick it to Foxboro. The Jets reach the playoffs as a wild card team. Brady defeats New England with five touchdown passes after going 0-2 against his former team in the regular season.
On the other side of the coin, Drew Brees leans on Alvin Kamara and defense to compensate for a rapidly declining arm. His improbable run to the Super Bowl sets up a showdown between two legendary quadragenarians
Twitter lights up with comeback speculation when the Saints open up a 28-3 third quarter lead over New York. Matt Ryan ugly cries into a bowl of ravioli while watching from home. Tom Brady scores 17 unanswered, but the deficit proves too much. Drew Brees puts the game away on a connection with Michael Thomas. Will Lutz's missed extra point doesn't come back to haunt them.
4. Super Bowl LVI (2/6/2022): Las Vegas Raiders 35, San Francisco 49ers 38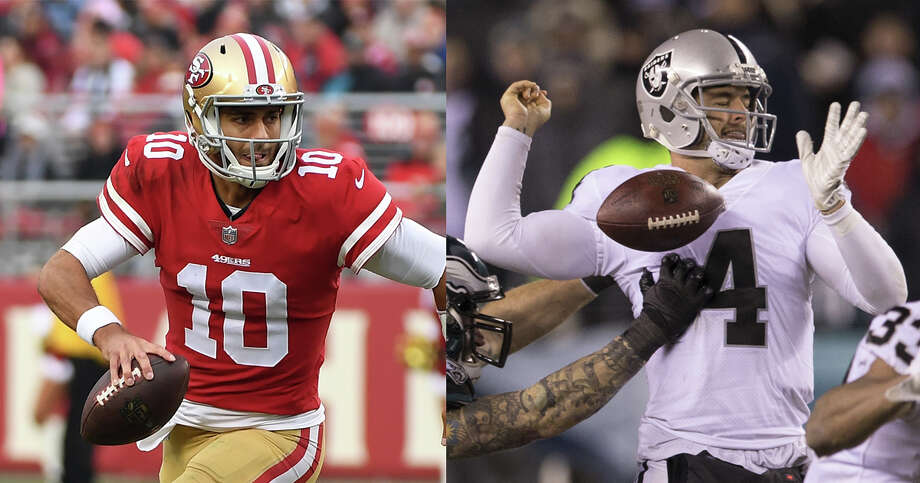 Brady, Roethlisberger, Manning, and Brees turn the NFL on its head by retiring after the 2021 season. After years of underperforming as a lame duck franchise, the Raiders compile several winning seasons in Las Vegas. Jon Gruden's snarl comes with more wrinkles than a decade ago, but he recaptures magic with the silver and black.
The 49ers build a dominating team around Jimmy Garoppolo. Speaking of recapturing magic, San Francisco flashes fans back to the 1990s by renewing their rivalry with the Dallas Cowboys in the NFC Championship Game. Skip Bayless strains his vocal cords defending Dak Prescott's four turnovers and must take a lengthy leave of absence from television. Fans everywhere flood Head Coach Kyle Shanahan's charity of choice as a thank you.
Las Vegas and San Francisco light up the scoreboard for all four quarters. Khalil Mack gives the Raiders a five-point lead after taking an interception to the house with six minutes remaining. Jimmy G rebounds for an 80-yard drive. He hits wide receiver Allen Robinson on both the go-ahead touchdown and the successful two-point conversion. 1:30 remains. The Raiders reach field goal range, but Giorgio Tavecchio pushes the tying kick wide right.
5. Super Bowl LVII (2/5/2023): Los Angeles Chargers 24, Los Angeles Rams 13
Philip Rivers follows the rest of his quarterbacking generation into retirement the following season. The Chargers never adequately planned for a replacement, but give Baker Mayfield a shot to shed his "bust" label. The stalling tactic pays dividends. Mayfield enjoys a breakout season to give the Chargers their first Super Bowl birth since 1994.
Their cross-town rivals, who no one would really call a rival, have themselves a season as well. The Rams maintained playoff contention for a half-decade but failed to advance past the divisional round. Things click during the 2022 season. Todd Gurley is still among the league's top backs at 28 years old and Jared Goff throws 36 touchdowns. Wade Phillips matches their effort with a top five defense in his final year as a coordinator.
Both Los Angeles squads reach the Super Bowl, and people who wondered why the city needed two teams complain it definitely doesn't need two Super Bowl teams. The Chargers quickly fall behind 13-0 in the first quarter but score 24 unanswered in the final two quarters. Baker Mayfield signs a massive extension in the offseason. San Diego riots.
Let me know what you think in the comment section below! Also, follow us on Twitter @factfictfant and subscribe!
Header Photo: stadiumsofprofootball.com