The Senior Bowl has wrapped up. NFL Scouts saw plenty of prospects see their stocks rise, and see their stocks fall. Let's get to the draft!
1. Cleveland Browns- Josh Rosen, QB, UCLA 
The Browns will stay with Rosen here. Rosen is still considered to the top quarterback in this years draft. But that still could change with the Combine coming up.
Quarterback remains a top need for the 0-16 Browns. DeShone Kizer was a raw prospect coming into the NFL, and really only flashed his abilities like he did in college. Granted he's not in an ideal situation, the Browns could immediately look for a change.
Previous Pick: Josh Rosen, QB
2. New York Giants- Baker Mayfield, QB, Oklahoma 
Darnold was the pick here for the Giants. But after a really strong Senior Bowl, Mayfield is separating from the pack.
The Giants have already said they're going to pick the best player available here. And considering their need at QB, Mayfield has to be on the Giants radar.
Previous Pick: Sam Darnold, USC
3. Indianapolis Colts- Saquon Barkley, RB, Penn State
Now that Josh McDaniels has spurned the Colts, they'll begin their next search for a coach. It still also remains unknown whether or not Andrew Luck will be healthy for 2018. Having an incredible talent like Barkley in the Colts backfield will certainly ease Luck's transition back in to the offense.
Previous Pick: Bradely Chubb, EDGE, NC State 
4. Cleveland Browns- Minkah Fitzpatrick, DB, Alabama 
The Browns are going best player available here. Fitzpatrick was a force in that Alabama defensive secondary. He's also widely considered a top 5 pick.
I could see the Browns also trading out of this spot for a QB needy team, there's plenty of them. And the Browns will continue accumulating future assets in their rebuild.
Previous Pick: Saquon Barkley, RB
5. Denver Broncos- Quenton Nelson, G, Notre Dame
If you're a gambler, you'll have noticed the betting odds are in favor for Kirk Cousins to Denver. Cousins is definitely done in Washington. And John Elway doesn't want to wait for another rookie to develop.
Nelson is a monster on the interior line, an area the Broncos have no talent. Nelson will step in Week 1 and immediately show his presence, and keep Kirk Cousins upright.
Previous Pick: Baker Mayfield, QB
6. New York Jets- Sam Darnold, QB, USC 
This is a tough spot for the Jets. They have absolutely no optimism for Bryce Petty and especially Christian Hackenberg as their future quarterbacks. And even if Josh McCown comes back for another season, it will probably be his last.
The Jets will pull the trigger and think to the future. Darnold has been mocked as high as first overall. Darnold has shown moments of spectacular QB play during his time at USC. The Jets will hope to have their best QB since former Trojan, Mark Sanchez.
Previous Pick: Josh Allen, QB, Wyoming 
7. Tampa Bay Buccaneers- Harold Landry, EDGE, Boston College
The Bucs had an awful 2017 season. Some people had Super Bowl aspirations for them this year. Not even close.
The Bucs should look to spend in free agency and draft capital on their pass rush. They ranked dead last this season in sacks. Landry had an injury shortened Senior year, but had a monster junior season. He had 16.5 sacks and 7 forced fumbles. He was so disruptive.
Previous Pick: Minkah Fitzpatrick, DB
8. Chicago Bears- Cortland Sutton, WR, SMU
The Bears need to get top draft pick Mitch Trubisky someone to throw the ball to. The Bears have arguably the worst receiving core in the league. Sutton will step in and be the big, outside threat this offense thought Kevin White would be.
9. San Fransisco 49ers- Connor Williams, OT, Texas
The Niners went out and got their franchise QB in Jimmy G. First, they need to resign or tag him. Next, they need to protect him. The Niners went undefeated with their new quarterback. They look like a completely different team.
Williams is the top OT in the draft, and will be tasked with protecting Jimmy G's blind side.
10. Oakland Raiders- Roquan Smith, LB, Georgia 
If you watched the Rose Bowl, you'll know the name Roquan Smith. He was everywhere. The Raiders need another playmaker on defense besides Khalil Mack, and Smith can do just that.
The Raiders went from being AFC favorites this offseason to completely inept on offense and defense. They need help everywhere, but Smith is the best available here.
11. Miami Dolphins- Bradley Chubb, EDGE, NC State
The Dolphins seem to always be a team that's close to breaking through. On defense, they have a dominate front 4, and a good secondary. But that front-seven is aging.
Cameron Wake is seeing his dominate career start to wrap up. They need a succession plan. Chubb averaged 10 sacks and 22 tackles for a loss over his last two seasons. The Dolphins will need to sustain this pressure if Tom Brady plays until 45.
Previous Pick: Harold Landry, EDGE
12. Cincinnati Bengals– Mike McGlinchey, OT, Notre Dame
The Bengals offense took a 180 this season. The offensive line was awful thanks in part to LT Andrew Whitworth heading to the Rams. Coincidentally, the Rams went from the 32nd to 1st ranked offense. The Bengals need to find another cornerstone LT here.
13. Washington Redskins- Derwin James, S, Florida State
Redskins take the BPA. James is a freak athlete on the field. Derwin didn't have a ton of turnovers, but he was a tackling machine at safety, a quality all coaches love.
14. Green Bay Packers- Joshua Jackson, CB, Iowa
Once the Packers lost Aaron Rodgers to a broken collarbone we knew their season was over. There's a number of ways they could use this pick, but it's best spent on the secondary. The Packers defense is average at best. They need to add some playmakers. And Jackson's 8 picks his Junior year will certainly help.
15. Arizona Cardinals- Josh Allen, QB, Wyoming 
Carson Palmer is now retired. They need to find their new franchise quarterback now.
Allen is such an intriguing prospect. He has the classic build for the prototype QB. He's tall, big hands and an absolute cannon for an arm. He can make these unbelievable throws, but at times you see him miss on simple check downs. Given the right environment to grow, Allen could become a great NFL quarterback.
Previous Pick: Lamar Jackson, QB
16. Baltimore Ravens- Derrius Guice, RB, LSU 
The Ravens NEED offensive playmakers. They have virtually none. Alex Collins had a nice season, but you have to wonder if he was another flash in the pan like Justin Forsett.
Guice might be just as good of a runner as Barkley. But one thing that has separated the two is Barkley's ability to catch the ball. Guice wasn't targeted much at LSU, but given the chance he has the talent to be a difference maker on this offense.
17. Los Angeles Chargers- Will Hernandez, OG, UTEP
Hernandez might be a stretch at 17 here, but man he'll be a great pickup. The Chargers have problems all over their interior line. Hernandez could be the solution.
Hernandez might have improved his stock the most at the Senior Bowl. He was an absolute monster. Every scout at the Senior Bowl has remarked on how well he played, even earning MVP honors. With a strong combine, Hernandez will absolutely solidify a first round selection.
Previous Pick: Quenton Nelson, G
18. Seattle Seahawks- Brian O'Neill, OT, Pittsburgh 
Doesn't matter who's available here, the Seahawks are taking an offensive lineman. Their line is horrifically bad. If it weren't for Russell Wilson, the Seahawks are picking in the top ten.
O'Neill had a really strong Senior Bowl campaign. And I've seen one scout compare him to Lane Johnson. The Seahawks will certainly take that.
Previous Pick: Orlando Brown, OT
19. Dallas Cowboys- Maurice Hand, DT, Michigan 
It was a Sophomore slump all around for the Cowboys. Their offense looked uninspired and checked out. And their defense lacked top end talent, especially on their interior defensive line. They'll need a DT who can get in the backfield.
20. Detroit Lions- Marcus Davenport, EDGE, UTSA
New coach Matt Patricia will look to add a new defensive playmaker, especially someone who can get after the quarterback. The Lions ranked in the bottom half of the league in sacks and tackles for loss.
Davenport is one of the more intriguing prospects in this years draft. His play at a small school will be used against him, but he was certainly productive during his four years. He also has a massive 6'7" body he'll use to get into the backfield.
Previous Pick: Sam Hubbard, EDGE
21. Buffalo Bills- Tre Edmunds, LB, Virginia Tech
The Bills will continue to build up their defense here on the first of their back to back picks. Edmunds was very productive at Virginia Tech. He's an efficient tackler, with 108 last season. He always found a way into the backfield, too. He totaled 10 sacks in his career and an impressive 33 tackles for loss. Edmunds has a great chance to shoot up many draft boards and find himself as a top 15 pick.
22. Buffalo Bills- Mason Rudolph, QB, Oklahoma State
The fifth quarterback to go in the first round! The Bills have made it no secret they don't want Tyrod Taylor, even though he's a pretty good quarterback. But the Bills want their franchise guy. Rudolph was very efficient last season. He threw for almost 5,000 yards, a nice 4:1 touchdown to interception ratio, and a 65% completion percentage. The Bills get a nice pickup here.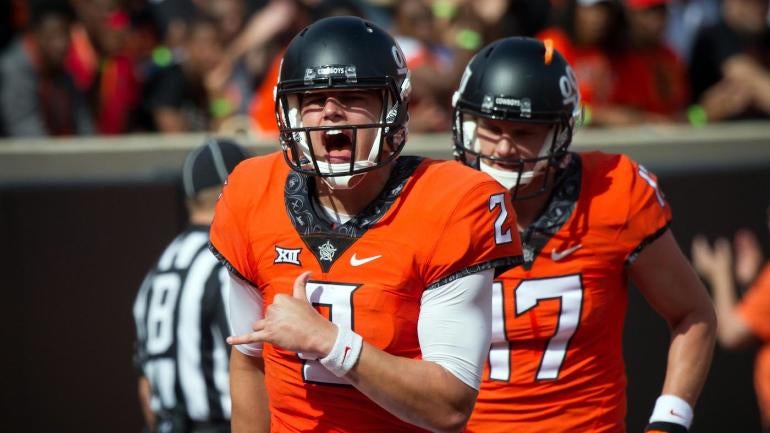 23. Los Angeles Rams- Rashaan Evans, LB, Alabama
The Rams did not get much out of their linebackers last season. Alec Ogletree has been rough the last few seasons, and it might be time to replace him. Evans was a versatile inside linebacker that will fit well in Wade Phillips' scheme.
24. Carolina Panthers- Calvin Ridley, WR, Alabama
The Panther need help at Receiver, Offensive Line and Cornerback. But the most glaring need is receiver. The Panthers need to do something to help Cam Newton. Aside from flashes from Devin Funchess, they got nothing. Ridley will be a breath of fresh air as the Panthers look to complete their offense.
25. Tennessee Titans- Sam Hubbard, EDGE, Alabama
The Titans could look to upgrade the Safety position here, but Hubbard is a great value at 25. The Titans have a lot of good players, but they need more disrupters. New coach Mike Vrabel has a chance to really coach up a disruptive pass rusher here.
Previous Pick: Ronnie Harrison, S
26. Atlanta Falcons- Derrick Nnadi, DT, Florida State
With Dontari Poe expected to hit free agency, they'll have a large gap to fill. Nnadi is a powerful DT who has no problems getting to the quarterback. He had 12 sacks and 24.5 tackles for loss in his career.
27. Pittsburgh Steelers- Micah Kiser, LB, Virginia 
The Steelers have pretty big needs at ILB, S, EDGE and QB. I think Kiser fits the biggest need at the moment. With the awful injury to Ryan Shazier, he won't be back. Kiser was wildly productive at Virginia. In his four years, he averaged over 100 tackles per year.
28. New Orleans Saints- Billy Price, C, Ohio State
The Saints need a big upgrade on the interior line, and Price will be a nice pickup. Price is the best and most ready Center in this draft. He's versatile enough to kick out to Guard, as well.
29. Jacksonville Jaguars- Orlando Brown, OT, Oklahoma  
The Jaguars need a quarterback, and lots of other help on their offense. But they've already committed to Blake Bortles for 2018, so they need to protect him. Their offensive line is terrible, especially their OT's. Brown will be competing for a starting spot out of camp. Pairing him with an improved Cam Robinson will be very beneficial for the Jaguars offense.
Previous Pick: Brian O'Neil, OT
30. Minnesota Vikings- Isaiah Wynn, OG, Gerogia
The Vikings might be the most complete team in the NFL. But their offensive line is mediocre at best. Smith could easily come in next season and be one of their best lineman. They could also look for some CB depth here as well.
Wynn saw his draft stock rise after a strong Senior Bowl, and could rise higher with a strong combine.
Previous Pick: Braden Smith, OG
31. New England Patriots- Malik Jefferson, LB, Texas
The Patriots linebacking core is awful. Dont'a Hightower is their only real playmaker there. And he can never finish a season healthy. Jefferson was an efficient tackler, had over 100 last season, and was disruptive in the backfield. He had 10 tackles for loss and 4 sacks last season.
The Patriots defensive needs were on display all night during the Super Bowl. Their linebackers just can't keep up with skill players.
32. Philadelphia Eagles- Vita Vea, DT, Washington 
The Eagles would like to upgrade the LT spot after Jason Peters tore his pectoral muscle, and he'll be 35 next season. But with no talent available here, they'll look to upgrade on the DL. Vea has garnered some Haloti Ngata comparisons. He'll also provide some nice depth at the position as well.