When Carson Wentz went down with an ACL tear in week 14, the rest of the league presumed Philadelphia would meet a quick playoff exit. After all, the same misfortune had befallen the Oakland Raiders just a year before. Depending on a backup in a quarterback-centric league could never work. Supposedly. Nick Foles had another idea in mind. In fact, The NFC Championship Game matchup between the Eagles and the Vikings guaranteed that one of this year's Super Bowl participants would be led by a benchwarmer.
A Nick Foles win over Tom Brady would be the ultimate David vs. Goliath victory. However, quite a number of backup signal callers have hoisted the Lombardi Trophy. Nick Foles can become the tenth. 9 of 51 victorious quarterbacks didn't start their championship season first on the depth chart. That's a significant 17.7%.
Four of those quarterbacks answered the bell by taking over for an ineffective starter or winning a mid-season competition: Roger Staubach, Terry Bradshaw, Doug Williams, and Trent Dilfer. The others took the field due to injury, much like Nick Foles. Here are their stories below.
1. Earl Morrall (Super Bowl V)
Earl Morrall, definitively the greatest backup quarterback in NFL history, played in two Super Bowls as a second stringer. His first appearance is more famous for Joe Namath's guarantee. The 34-year-old Earl Morrall led the Baltimore Colts to a 13-1 record after Johnny Unitas injured his arm during the 1968 preseason. Namath, unimpressed, not only promised a Jets victory but also noted there were five or six better quarterbacks than Morrall in the AFL. Earl Morrall was unable to make Broadway Joe eat his words. He threw three interceptions and was relieved by Unitas with the game already out of reach. Morrall replaced an injured Johnny U two years later in the second quarter of Super Bowl V. He threw for 147 yards and overcame a 13-6 deficit to capture the Colts' first post-merger championship. Earl Morrall also went 9-0 for the 1972 Miami Dolphins after Bob Griese broke his leg. He kept their unbeaten season alive until Griese retook the reins in the AFC Championship Game.
2. Jim Plunkett (Super Bowl XV)
Few possess football legacies with greater ups and downs than two-time Super Bowl winner Jim Plunkett. The former first overall pick in 1971, Plunkett joined the Raiders as a unanimous bust in 1978. He backed up Kenny Stabler in the legendary quarterback's final two seasons with the team. He then held a clipboard for Dan Pastorini, acquired in a trade for Stabler, to begin the 1980 season. When Pastorini broke his leg in week five, however, Plunkett stepped in to lead the 2-3 Raiders to a 11-5 record. Oakland became the first wildcard team to win the Super Bowl thanks to Plunkett's 261-yard, three touchdown MVP performance against the Philadelphia Eagles. Jim Plunkett's second Super Bowl victory came three years later. Coincidentally, he temporarily lost his job to Marc Wilson during that season and gained it back thanks to Wilson breaking a shoulder.
3. Jeff Hostetler (Super Bowl XXV)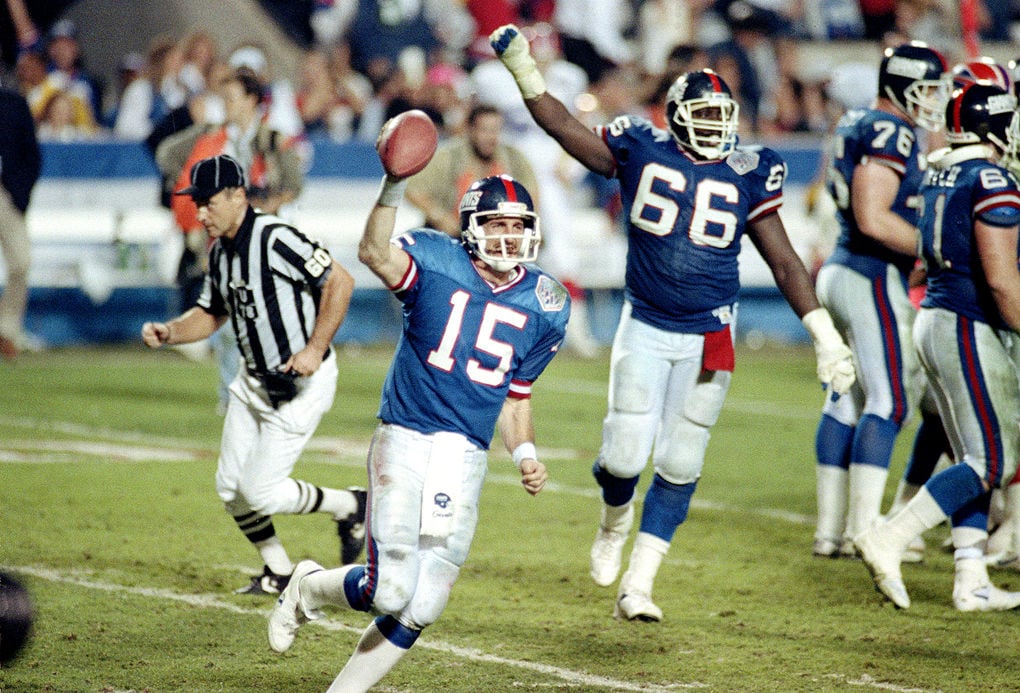 This is the situation that Eagles fans now find themselves dreaming of. The 2017 Eagles sat at 11-2 after Carson Wentz's devastating injury. Phil Simms broke his foot one week later than that in 1990. The Giants lost the game to fall to 11-3. Jeff Hostetler, who had spent his entire career backing up Simms, won both of his remaining regular season starts. New York received a bye as the NFC's number two seed and proceeded to defeat the Bears and 49ers to reach the Super Bowl. Philadelphia, which is already similar in style to the 1990 team, may want to take a page from New York's Super Bowl playbook as well. The Giants possessed the ball for a whopping 40 minutes and 33 seconds against the Buffalo Bills. Jeff Hostetler went 20 for 32 for 222 yards and a touchdown.
2. Kurt Warner (Super Bowl XXXIV)
Grocery Bagger. Arena Football Hall of Famer. Super Bowl MVP. Pro Football Hall of Famer. Kurt Warner's career trajectory is bonkers. Warner had four career pass completions to his name when Trent Green went down with an ACL injury.  The Rams rallied around him, and Warner added 325 completions, 4,353 yards, and 41 touchdowns to that resume by season's end. He threw a then-record 414 yards and two touchdowns in Super Bowl XXXVI. Warner's flawless orchestration of the Greatest Show on Turf earned him Super Bowl MVP honors. He played in the league for another decade and appeared in two more Super Bowls.
1. Tom Brady (Super Bowl XXXVI)
The most recent backup to win a championship just happens to be gunning for his sixth Super Bowl two Sundays from now. No backup has won since because, frankly, the Patriots haven't allowed it. Just like Warner, everyone knows the story of the 199th pick in the 2000 NFL Draft – whether they want to or not. Jets' linebacker Mo Lewis knocked Drew Bledsoe out of a 2001 week two matchup. Tom Brady took the field for New England and never looked back. The tuck rule, several remarkable Vinatieri kicks, a few scandals, too many rings, a 28-3 comeback, and 8 AFC Championships later… here we stand. Tom Brady is the lone man remaining in the way of Nick Foles' fairy tale ending.
If you liked this article, make sure to subscribe to Fact Fiction Fantasy and follow us on Twitter @factfictfant.
Header Photo: philadelphiaeagles.com