The rare player is the one who plays his entire career for the same organization. Those guys go down in local lore as a player who rebuffed the greener grass on the other side of the fence to stay in the one and only place he has ever known. He's the face of not just the franchise, but the franchise's history.
Every team has somebody like that. For the Bears, Walter "Sweetness" Payton played his first, and last, down for Chicago. In Pittsburgh, it is fondly remembered that Jack Lambert crushed the bones of opposing running backs wearing no other jersey than the black-and-gold. Jim Brown, before retiring on the set of The Dirty Dozen, suited up for only the Cleveland Browns.
Sadly, not every player gets to play for just one team. For every Payton, Lambert, and Brown, there's a Brett Favre, a legendary Packer who began his career in Atlanta before finishing it with the–gulp–Vikings. (And lest we forget that stint with the New York Jets.)
Or Bobby Layne, who was originally signed by George Halas to eventually lead the Chicago Bears. Instead, he led the Detroit Lions to multiple NFL Championships.
Yes, sometimes that iconic player–that one you (or, in Layne's case, your grandfather) forgot played with that other team–did so at the beginning of his career. Mostly, though, it occurs in the twilight of one's profession, when the only team he's ever known knows that he's done, but he doesn't.
Below, find Part I of II of the best examples of a football player suiting up for a different team than the one with which he his best, or most often, associated.
Arizona Cardinals: Emmitt Smith, RB, 2003-2004.
Smith, who won three Super Bowls and made eight Pro Bowls with the Dallas Cowboys between 1990-2002, latched on with the Cardinals in an effort to extend his Hall of Fame career. It didn't really go as planned, as Smith played in only 10 games in 2003. In 2004, he rushed for nearly a thousand yards, finding pay dirt 9 times, but the team scuffled, finishing 6-10.
Atlanta Falcons: Eric Dickerson, RB, 1993.
After leading the league in rushing on four different occasions, Dickerson, like most running backs, hit a brick wall once he turned 30. He played in only 11 games that season and 10 the next, his last with the Colts. He spent the 1992 season with the L.A. Raiders before getting dealt to the Falcons.
In Atlanta, Dickerson only appeared in four games, rushing for a mere 91 yards on 26 carries, before being traded yet again to the Packers. However, he failed his physical with Green Bay and never played for them.
Baltimore Ravens: Deion Sanders, CB, 2004-2005.
Primetime, unlike the previous players on this list, isn't exactly remembered for playing for one team. He played for, and had success with, multiple franchises, including the Falcons, Cowboys and 49ers.
However, he ended his career with a brief, two-season stint with the Ravens, where he played in 27 games, starting six. He picked off a total of five passes lining up with players like Ray Lewis and Ed Reed, but Baltimore went just 15-17 those two years, never making the playoffs.
Buffalo Bills: Drew Bledsoe, QB, 2002-2004.
After losing his job to Tom Brady, Bledsoe was traded by the Patriots to the Bills in a rare intradivisional deal. Bledsoe made the Pro Bowl in 2002, throwing for over 4,000 yards, but the Bills never made the playoffs during his three seasons there. He wrapped up his career in Dallas.
Carolina Panthers: Reggie White, DE, 2000.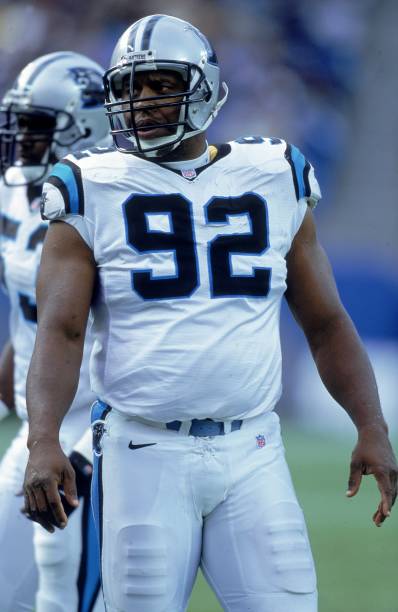 White burst on to the scene in 1985, recording 15.5 sacks for the Eagles. But after the 1992 season, he left Philadelphia via free agency for, ironically, the one NFL franchise that today eschews free agency more than the rest: the Green Bay Packers. After spending the next six seasons in Wisconsin, reaching the playoffs every season and winning Super Bowl XXXI, White retired.
But he came out of his retirement for one final season, and he played that year for the Panthers. He recorded only 5.5 sacks, the lowest number in his career, for a Carolina team that went 7-9. He finished his career with 198 sacks, second all-time.
Chicago Bears: Alan Page, DT, 1978-1981.
(Photo Courtesy of Biography.Com)
The anchor of the Purple Eaters defense that led the Minnesota Vikings to four Super Bowl appearances between 1970 and 1977, Page would, after his retirement, sit on the Minnesota Supreme Court for twenty-years. Between those noble professions, he also played against the Vikings as a member of the division rival Chicago Bears. All seems to have been forgiven, though: Page joined the Vikings Ring of Honor in 1998.
Cincinnati Bengals: Terrell Owens, WR, 2010
(Photo Courtesy of BleacherReport.Com)
In year 15 of a 15-year career, T.O. landed in Cincinnati, playing out his career for a 4-12 Bengals team. Despite the team's record, Owens had a solid season, leading the team, which also boasted Chad Johnson, in catches (72), receiving yards (983), and receiving touchdowns (9).
Cleveland Browns: Len Dawson, QB, 1960-1961.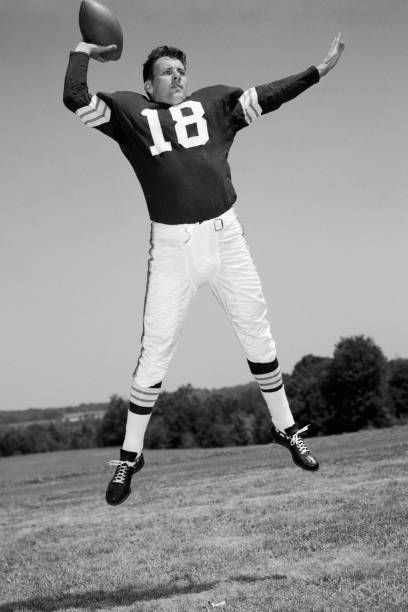 After playing sparingly for the Pittsburgh Steelers, young quarterback Len Dawson appeared in nine games for the Browns, starting one, between 1960 and 1961. In that limited action, Dawson threw more interceptions (3) than he did touchdowns (1). After leaving Cleveland, though, he embarked on his trek toward Canton, compiling a 93-56-8 record with the Texans/Chiefs organization, winning Super Bowl IV.
Dallas Cowboys: Jackie Smith, TE, 1978.
Poor Jackie Smith. While playing for the St. Louis Cardinals between 1963-1977, the guy could catch anything but a break. The Cardinals made the playoffs only twice during Smith's time there. And when he retired from St. Louis, he ended up signing with the top NFC franchise of the day, one battling the Pittsburgh Steelers for NFL supremacy: the Dallas Cowboys.
During that 1978 season, Smith was mostly a back-up tight end used solely for blocking purposes. He did not record a single reception. But during Super XIII, against the Steelers, he finally found himself in what would have been the best moment of his professional career…
…had he caught the Roger Staubach pass. The catch didn't end the game–it would have made the score 21-20 Steelers before the extra point attempt–but it is an unfortunate, sadly iconic moment for a Hall of Fame tight end.
Denver Broncos: Tony Dorsett, RB, 1988.
(Photo Courtesy of USAToday.Com)
After starring for America's Team between 1977 and 1985, Dorsett found himself in unfamiliar territory in 1986, when for the first time in a non-strike-shortened season, he rushed for less than 1,000 yards. The same thing happened the following year. Then, suddenly, Dorsett found himself in a different backfield–this one playing its home games in Mile High Stadium.
The future Hall of Famer, taking hand-offs from John Elway, was the team's lead back in 1988, his only season in Denver. He ran for over 700 yards and rushed for 5 touchdowns as the Broncos finished 8-8, missing the playoffs.
Detroit Lions: Jim Harbaugh, QB, 2001.
(Photo Courtesy of DetroitNews.Com)
Years before Harbaugh, as the head coach of the 49ers, got into a heated exchange with then-Lions head coach Jim Schwartz shaking hands after a game, Harbaugh suited up for Detroit, hoping to make the team backing up Charlie Batch.
When you're trying to make the team to back up Charlie Batch, you know you're at the end of the line. And that's exactly where Harbaugh found himself. Sadly, Harbaugh didn't make it past the pre-season, getting cut before playing a meaningful down for the Lions.
Green Bay Packers: Ted Hendricks, LB, 1974.
(Photo Courtesy of Packers.Com)
The Mad Stork, a four-time Super Bowl champion, played for the Balitmore Colts from 1969-1973 and, more famously, the Raiders between 1975-1983.
That gap year, though–1974? He spent it with the Green Bay Packers, making All-Pro and the Pro Bowl. Yet the team, in Dan Devine's final year as head coach there, went 6-8, missing the playoffs. In the offseason, Al Davis traded multiple draft picks to bring Hendricks to the Raiders, with whom he won Super Bowls XI, XV, and XVIII.
Houston Texans: Ed Reed, S, 2013.
(Photo Courtesy of TheBigLead.Com)
Reed, a five-time All Pro and nine-time Pro Bowler, won Super Bowl XLVII with the Baltimore Ravens, the franchise that drafted in 2002. But after the Super Bowl win, Reed left Baltimore in an attempt to extend his career. He landed with the Texans with a three-year deal.
But his time in Houston lasted only seven games. He would get cut, land with the Jets, finish out the 2013 season, and never play again.
Indianapolis Colts: Andre Johnson, WR, 2015.
(Photo Courtesy of Colts.Com)
In the penultimate season of his career, and first with an organization outside of Houston, Andre Johnson was supposed to catch passes from Andrew Luck. But–and stop me if you've heard this one before–Luck got hurt, and instead Johnson had Matt Hasselbeck throwing him the ball.
The team actually had a better record that season with Hasselbeck under center, but missed the playoffs after going 8-8. Johnson caught 44 passes for 503 yards and 4 touchdowns before moving on to the Titans.
Jacksonville Jaguars: Torry Holt, WR, 2009.
(Photo Courtesy of Zimbio.Com)
The St. Louis Rams drafted Holt 6th overall in the 1999 draft out of North Carolina State, and he immediately paid dividends, lining up across from Isaac Bruce, hauling in passes from the unknown Kurt Warner, and forming part of The Greatest Show on Turf. The Rams won the Super Bowl in Holt's rookie season, and for years after that, Holt lit up opposing defenses, catching passes from Warner and Marc Bulger.
But after 2008, a year in which the Rams plummeted to a new low, going 2-14, Holt left for Jacksonville, where he signed a 3-year deal. He lasted only one season. That year, which proved to be Holt's last in the league, he caught 51 passes for 722 yards, but failed to score a touchdown. Like with most players on this list, Holt missed out on the playoffs, and never played another regular season down.
Kansas City Chiefs: Joe Montana, QB, 1993-1994.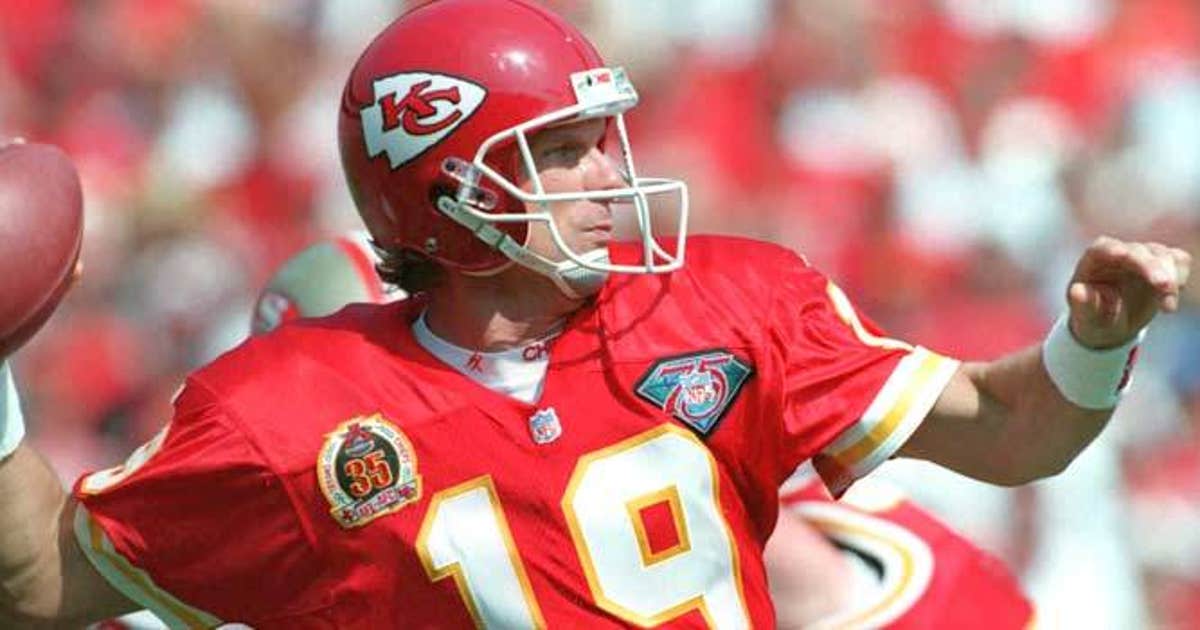 (Photo Courtesy of Fox Sports)
Wrapping up Part I of this list is Joe Cool, who won four Super Bowls with the San Francisco 49ers before choosing to leave after losing his job to southpaw Steve Young.
Montana landed with the Chiefs, and in 1993, led Kansas City to the AFC Championship game. He is the last Chiefs quarterback to win a playoff game at Arrowhead Stadium, a 27-24 victory over the Steelers on January 8, 1994.
He played one more season for the Chiefs. The team went 9-7, but lost in the first round of the playoffs to the Dolphins. Montana then retired, and was inducted into the Hall of Fame in 2000.
That wraps up Part I of this list. I hope you enjoyed it, and if you think I picked out the wrong guy for a team, let me know in the comments section. I'll be back with Part II next week.
If you liked this article, don't forget to subscribe to Fact Fiction Fantasy and follow us on Twitter @factfictfant